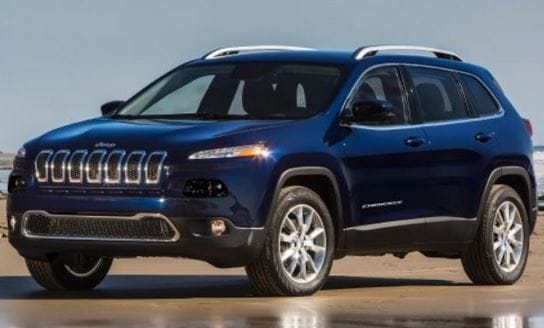 Photo Credit: Car and Driver

Revived and brought in to take the place of the outgoing Jeep Liberty model, the 2014 Jeep Cherokee is a modern take on off-road authority and on-road refinement, and it has it just right.
The first question that came into Jeep loyalist minds when photos of the new Cherokee were shown to the public was, "How will this modern crossover-like vehicle be off the road?" Jeep responded to critics and fans by assuring them the Cherokee will be a true Jeep capable of handling any off-road adventure owners will throw at it.
And now, only a brief 5 months after its insertion into the Jeep lineup, automotive critics are praising the new Cherokee for being as capable as any vehicle in its class off-road, and are in awe of the on-road refinement Jeep gave its new Cherokee model.
"The 2014 Jeep Cherokee has more off-road capability than anyone expects from a crossover, but the bigger story is that it's civilized and comfortable enough to drive to work every day," said Edmunds.com.
It's true - the new Cherokee is a well-designed capable crossover that has everything a new car owner could ask for in a vehicle. The interior is both relaxing and well laid-out, and optional niceties like Lane Departure Warning, a wireless charging pad for your smartphone, and an 8.4-inch touch-screen display will have you not wanting to leave your new vehicle.
Many are also comparing the new Cherokee to another Jeep product, the Grand Cherokee, drawing similarities from its refined cabin and boulder-conquering mentality.
"The Cherokee brings the same level of product execution that the Grand Cherokee possesses but into a smaller segment," said Car and Driver. The praise of the new Cherokee doesn't end there though.
"Not only can it climb mountains, but it offers creature-comforts that might well be the best in class," said Kelley Blue Book.
By now it's clear the new Cherokee has made a splash in the midsize Crossover/SUV class, but is it on your list of must-drive vehicles to consider?
If it isn't, let us be the first to tell you - it should be.
Visit our team at Kelly Jeep Chrysler in Lynnfield, MA today to test drive the new 2014 Jeep Cherokee.