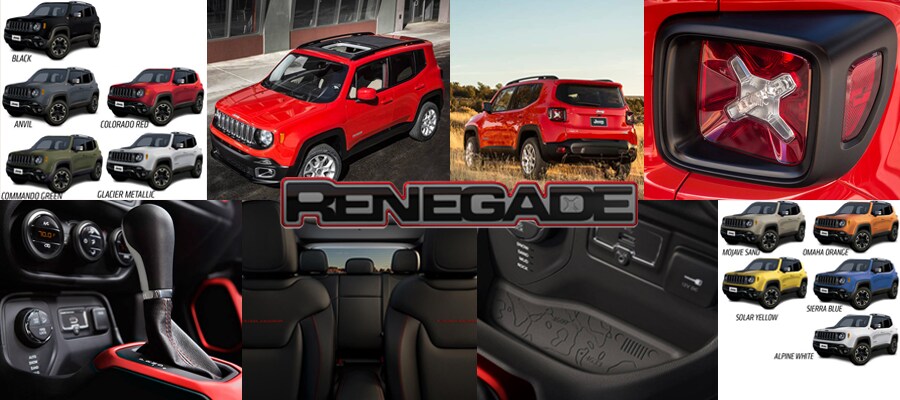 Behind a uniquely-styled construction and quality design in every form, the
2015 Jeep Renegade
accomplishes the need of every off-road and on-road buyer. A true-to-form
Jeep
, the Renegade is a new breed of subcompact SUV that modernizes the Jeep lineup for diehards. Thus far, it has been very well-received by the public and the media.
The new Renegade is a detailed piece of sheet metal inside and out, offering cute Easter Eggs bonuses (little details Jeep adds into certain models) and two effective choices when it comes to engine options: a 1.4L turbo four with six-speed manual good for 160 HP, or a 2.4L four-cylinder with nine-speed automatic transmission and 180 HP.
Every model is offered in front or four-wheel drive, while opting for the
Trailhawk
model takes the off-road experience to the next level. Jeep enthusiasts will love the Renegade Trailhawk CUV.
Competition in the segment is steep with the likes of the Nissan Juke and all-new FIAT 500X to name a few. But amongst all of the models vying for your driveway, the Renegade is far and away the most capable of any vehicle in its newer subcompact SUV/crossover class, and offers variants based on your level of off-road appeal.
It's tech-connected, cute with its fun hidden gems, versatile when it comes to space, and durable like every Jeep built. Quite simply, it's a wonderfully put together CUV, and one you should seriously obligate yourself to test drive if you find yourself in the market for such a well-balanced vehicle.